Cascading waterfalls, verdant forests, and jagged mountain peaks set the stage for great adventure in the Great Smoky Mountains, one of the best loved national parks in America. Spread across 522,427-acre in the Appalachian range, the park is famous for both the fiery blazes of autumn and its colorful spring wildflowers. The Great Smoky Mountains National Park is also home to a wide range of animal and plant life – from amazing displays of synchronous fireflies to lumbering black bears.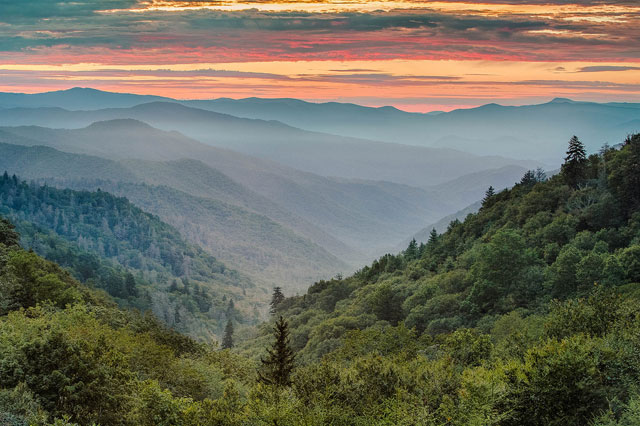 There are several ways to access this national park, which spreads across the states of North Carolina and Tennessee. The main gateways to this potato-shaped national park are the Oconaluftee Visitor Center in North Carolina and the Sugarlands Visitor Center in Tennessee. You will find the scenic Newfound Gap Road between the two. This road winds for about 29 miles bisecting the park on the only pavement traversing the national park. Trailheads for some historic sights and some popular hikes are found along this road. The Cades Cove and the Cataloochee Valley are some of the popular access points in the Smokies.
The extensive trail system crisscrossing misty mountain slopes and forested valleys is one of the great draws of the Great Smoky Mountains. There are more than 800 miles of paths ranging from challenging all-day hikes to easy rambles along boulder-filled streams. With about 100 backcountry shelters and campsites, there are great possibilities for multi-day treks in this park.
Besides hiking, there are other ways to experience the Smokies. If you want to take a break from hiking, you can allow a trusted steed to do the work. There are horseback riding stables in Smokemont, Sugarlands, and Cades Cove. There are also some matchless scenic drives in the park, including ridgeline roads where visitors can gaze at the endless expanse of peaks. You can also visit the grist mills or the well-preserved log cabins.
The Great Smoky Mountains are hard to beat if you are looking for a budget-friendly vacation. Besides car rental, expenses are very minimal. One of the best ways to experience the park is through camping and it cost less than $30 per night, and all the attractions within the national park are free including the panoramic view at Clingmans Dome, Cades Coves historic buildings, and the Mountain Farm Museum. And unlike most national parks, it is free to enter the park.
The allure of the Smokies is definitely no secret, and the park gets very crowded during the summer months. So it is smart to plan ahead so you can get your desired accommodation. There are lots of accommodation options both within and outside the park. Gatlinburg is packed with guesthouses and hotels and there are cabin rentals throughout the surrounding area and the city – particularly near Pigeon Forge, Bryson City, and Cherokee.