Cross country running can be a very difficult sport to start participating in, but there is nothing that beats the feeling after you have completed a run. You feel like you really have achieved something wonderful and great.
Since cross country running happens on varying terrains such as mud, water, and hills etc. it can be very challenging on your body and your mind. The land on which you may be running can change greatly between courses. Also, going uphill is extremely difficult especially after you have already been running for a while. Cross country running is actually quite different than just regular running and you really have to actually experience it to know the difference.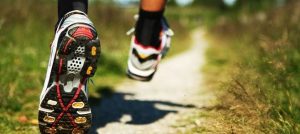 The nice thing about this sport is you don't need to invest allot of money to start up. You just need a good pair of running shoes that are good for all sorts of terrain, a water bottle and of course yourself! Most beginners start with a good quality pair of runners and then they purchase a pair with cross country spikes if they are going to be participating in an actual race. The runners with spikes wear out very quickly so if you're not planning on racing I wouldn't waste your money on them.
For beginners, the best advice is just to start up slow and build up your strength. If you start off really hard then there is a huge chance you will give up quickly and never want to do it again. Trust me. You will feel good at first and then in about 5 minutes you will wish you were on another planet, not to mention the after effects. You will feel parts of your body that you never knew existed and they will hurt badly. If you have never run in a long time then you may even need to just start walking, then go to speed walking and eventually to light jogging.
Many people have taken up this amazing sport and built lots of friendships along the way, as the common suffering and final accomplishment at the end is shared with others. If you have not done it already why not give it a try? You just might be pleasantly surprised by how much fun you have and you may never stop running once you start.